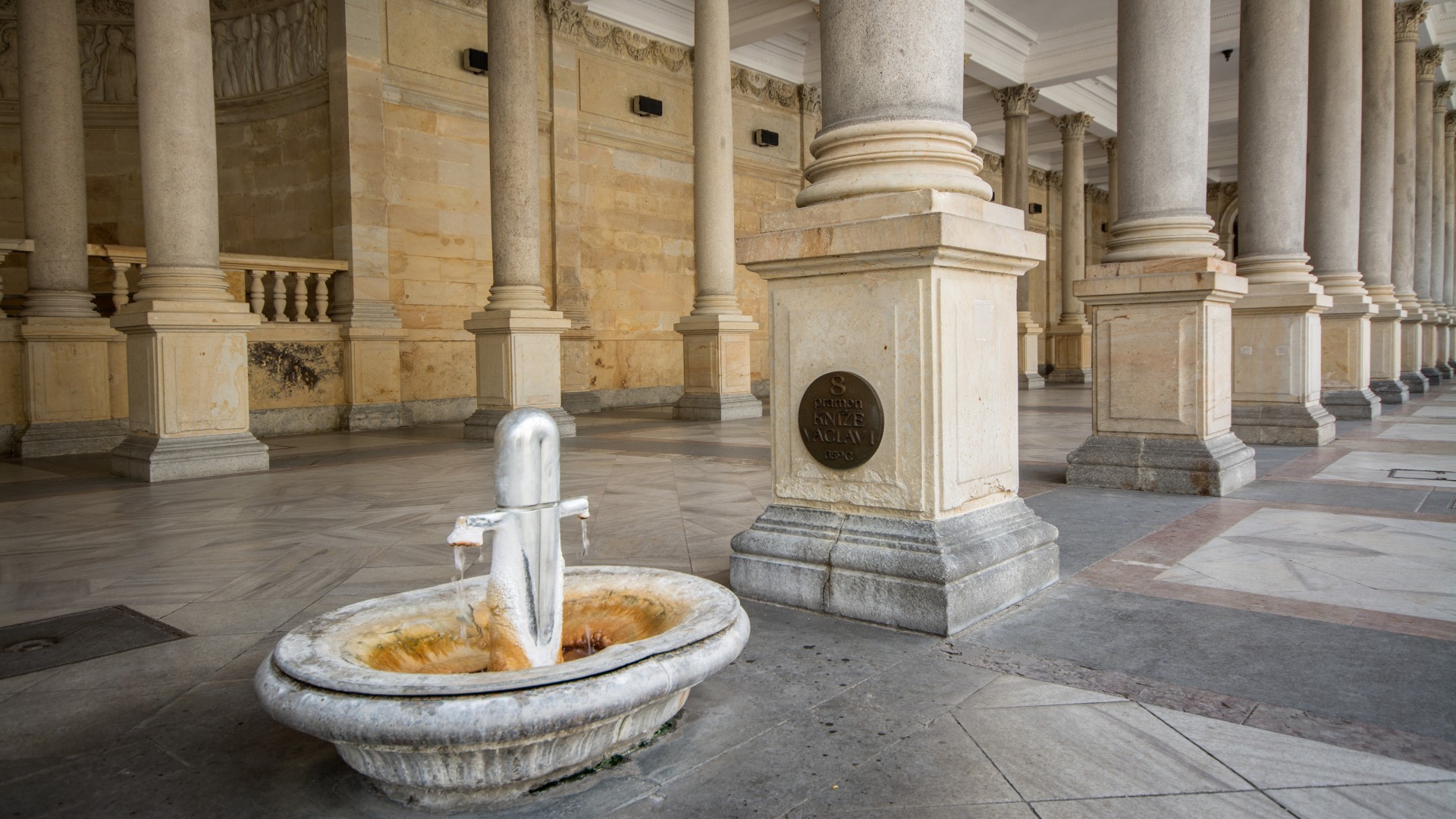 Springs and Colonnades
Intro
| | |
| --- | --- |
| 1. Vřídlo (Hot Spring) | Hot Spring Colonnade |
| 2. Charles IV Spring | Market Colonnade |
| 3. Lower Castle Spring | Castle Colonnade |
| 4. Upper Castle Spring | Market Colonnade |
| 5. Market Spring | Market Colonnade |
| 6. Mill Spring | Mill Colonnade |
| 7. Rusalka Spring | Mill Colonnade |
| 8. Prince Wenceslas I. and II. Spring | Mill Colonnade |
| 9. Libuše Spring | Mill Colonnade |
| 10. Rock Spring | Mill Colonnade |
| 11. Freedom Spring | Freedom Spring Arbour |
| 12. Park Spring | Undergroung of Army Spa Institution |
| 13. Dorotka Spring | Dorotka's Arbour |
| 14. Štěpánka Spring | Aloise Klein's Arbour |
| 15. Snake Spring | Park Colonnade |
| 16. Ferrous Spring | Ferrous Spring Colonnade |
Drinking cure is the most important part of the Karlovy Vary classical spa treatment.
The Karlovy Vary springs have rejuvenating effect and promote longevity.
The classic spa treatment takes at least three weeks and is based on several pillars:
-          Individual drinking cure program,
-          sipping mineral water directly at the spring,
-          dietary boarding,
-          movement in nature,
-          use of natural medicinal resources in the form of spa treatments
           (mineral water, mud, gas),
-          education - education for healthy lifestyle.
COLONNADES

HOT SPRING COLONNADE
Hot Spring - 72 °C

PARK COLONNADE
Snake Spring - 30 °C
Park Spring - 47,7 °C

MILL COLONNADE
Rock Spring - 53 °C
Libuše Spring - 62 °C
Prince Wenceslas I. Spring - 65 °C,
Prince Wenceslas II. Spring - 58 °C
Mill Spring - 56 °C
Rusalka Spring - 60 °C

MARKET COLONNADE
Market Spring - 62 °C
Charles IV. Spring - 62 °C

CASTLE COLONNADE
Lower Castle Spring - 55 °C,
Upper Castle Spring - 50 °C

ALOIS KLEIN'S ARBOUR
Štěpánka Spring - 14.2°C

FREEDOM SPRING ARBOUR
Freedom Spring - 62,4°C